All Valve-Actuator Assemblies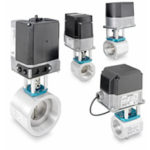 SCC offers a full complement of Valve-Actuator (VA) assemblies. VA Assemblies are available with the following actuators:
SQM33 actuators with LMV3 Linkageless systems
SQM45 or SQM48 actuators with LMV5 Linkageless systems
SQM40/41 Synchro Modulating Actuators
SQM50/53/56 Modulating Actuators
Connecting to the following Valve lines:
VKG Threaded Butterfly Valves
VRG Biogas Butterfly Valves
VKF Flanged Butterfly Valves
VKP Characterized Valves
Hauck Oil Valves
With most items in stock, standard VA assemblies are assembled, tested and shipped within 24 hours upon receipt of order.
Contact ITS for assistance on a VA assembly for your application.